Scrubs & Beyond
has a great sale on their Scrub Works Creepy Cuties print scrub jacket. This is just in time for Halloween!!! Great Halloween print at a great value price - new from Scrub Works! This print scrub jacket features a figure flattering fit with round neckline, snap front, contrasting orange knit cuffs, and roomy front pockets. Make sure that you check out the other deals, save up to 75% off Regular Price, plus your
Cash Back
!!!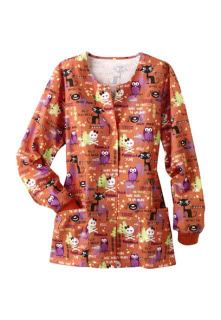 Share 1050CC
Was: $19.99
Now: $8.99
Get 3% Cash Back: $0.27
Final Price: $8.72
Earn up to 3% Cash Back through zuuzs
, and when you join you will be entered into the $1000 Shopping Spreestakes! Invite your friends and you earn a percentage of their cash back too!!!