I will be posting throughout the day some of the deals that I find on
1SaleADay
. They are having a new deal every 30 minutes!!! I am super stoked and hope to score some great Christmas presents with this so I plan to be watching most of the day. I hope that you all are able to get some great deals also!!! Stop back by and leave me a comment letting me know what you get.
I do have to tell you guys though, as with anything that I buy online, I will be making my purchases through
ShopAtHome.com
and earning cash back on anything that I buy. That's just the way that I shop these days! It's free cash basically on something that you would have purchased anyways. And if you are new to
ShopAtHome.com
, you will earn a $5 sign up bonus! Once your account has $20 in it, they will mail you a check!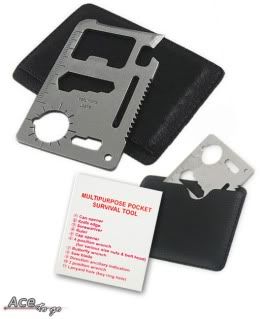 With
1SaleADay
you will earn 2% cash back from
ShopAtHome.com
! Let's see what the current deal is:
$1 + Free Shipping! Multi-Purpose 11-in-1 Stainless Steel Pocket Survival Tool With Storage Pouch
(Only 10 Minutes Left on this, then a new deal will be up)
! This looks like something everyone could use! Going to go add some to my cart now! Keep checking back throughout the day and be sure to come back each time to go through my
ShopAtHome link
and sign up so that you can earn some money! If you read this and the deal above is over with, you can still click the link and it will take you to the current deal. Good Luck, I can't wait to see what kind of goodies we all get today!
Over 100,000 Grocery and Restaurant Coupons, Printable Coupons, Coupon Codes, Cash Back and Hot Deals