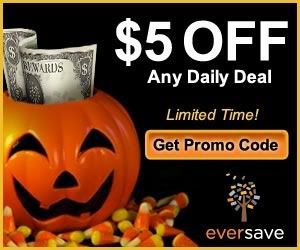 Eversave just released a HOT Promo Code that will take $5 off ANY of their deals! Use the code SPOOKY at checkout to save $5 on any deal now through Thursday 10/27!
If you are new to Eversave, you'll want to join here for free FIRST to get your instant $3 credit. After you have joined, click on a deal link below to continue.

Another Bonus: Once you buy a save, if you share it via twitter, facebook or email afterwards, you'll get an instant $2 credit back!!!

Even Better: You get $10 worth of Save Rewards for every new friend you refer to Eversave once they buy their first Save!!!






Today's Save: Ortega Publishing





Today's Save:$21 for two personalized Disney storybooks, shipping included ($42 value)



Expires 11:59 PM - Nov 03, 2011







Bonus Save: iLive IB209P pink portable iPod dock





Today's Save:$39 for an iLive portable iPod dock and radio, shipping included ($61 value)



Expires 11:59 PM - Oct 28, 2011







Bonus Save: Biatta Intimates





Today's Save:$15 for $45 worth of lingerie and sleepwear at Biatta Intimates



Expires 11:59 PM - Oct 25, 2011







Bonus Save: Martha Stewart Living





Today's Save:$20 for a one-year subscription to both Martha Stewart Living® and Whole Living® magazines ($34 value)



Expires 11:59 PM - Oct 26, 2011







Bonus Save: PaintMyPicture.com





Today's Save:$79 for a 16 x 20 oil painting of your favorite photo, framing and shipping included ($278 value)



Expires 11:59 PM - Oct 29, 2011







Bonus Save: Coffees of Hawaii





Today's Save:$15 for $30 worth of premium coffee from Coffees of Hawaii



Expires 11:59 PM - Oct 30, 2011







Bonus Save: California Cozy





Today's Save:$20 for $40 worth of Aden + Anais, Little Giraffe, and more luxury baby supplies from California Cozy



Expires 11:59 PM - Nov 02, 2011







Bonus Save: Bright Star Kids





Today's Save:$25 for $50 worth of personalized labels, wall art and more from Bright Star Kids



Expires 11:59 PM - Oct 27, 2011







Bonus Save: Amella Caramels





Sweet Savings:$15 for $30 worth of all-natural artisan caramels from Amella



Expires 11:59 PM - Nov 01, 2011