I love
zulily
! You never know exactly what you'll find—the brands they offer change every day. It's like finding a treasure chest full of cute stuff. Membership is free and I know you'll love it too.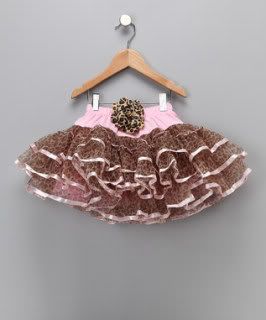 This precious Leopard Pettiskirt is from
Popatu by Posh-For the girl who likes to twirl! It's difficult to imagine anything more perfect for performing all of her favorite dance moves than the pretty pieces from Popatu by Posh. This brand excels at making frilly garments and accessories we love. We're sure your girl will agree—there can never be too many ruffles. Toddler & Girls $15.99 original $29.00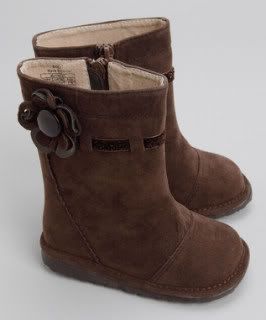 I love these Chocolate Suede Flower Squeaker Boots out by Mooshu Trainers-When her daughter tried squeaker shoes, the eventual creator of Mooshu Trainers was thrilled to find that they helped with stability and balance. Plus, the squeaker encouraged her daughter to walk heel to toe (that's the only way the squeaker works). Now, Mooshu Trainers bring the benefits of squeaker shoes to your gal with a focus on width and flexibility while maintaining cute style.
Only $19.99 original $38.00
These are just 2 of the 100's of items zulily has on sale. Each day offers different sales. To sign up and get these awesome deals, Click Here!