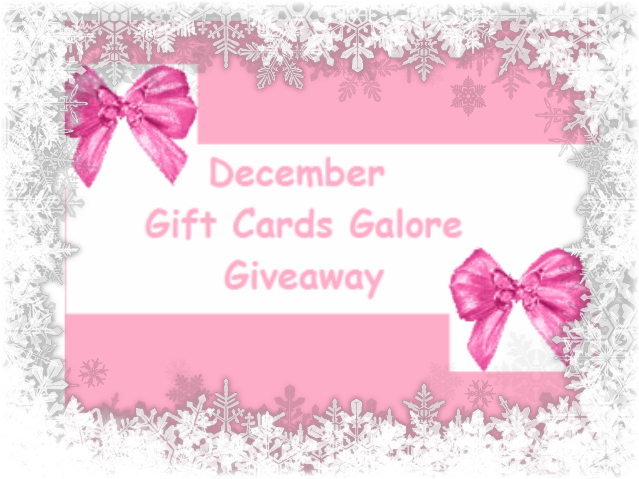 Hi everyone! I hope that you can join me with this great giveaway that I have planned. This giveaway is going to be a monthly feature called Gift Cards Galore!!! Depending on your interest, this may be a bi-weekly feature, so that change may come soon.
You will need to supply a gift card of your choice with a value of $5 or more. This can be an electronic gift card or one that you will need to mail out to your winner. As you know, there are many ways to earn these gift cards for free. Superpoints Network, Swagbucks, MyPoints, etc. are some of the sites you can do this with. Let me know if you need an invite to any of these networks.
Each method of entry you would like to have is only $1 each. Facebook page will be a mandatory entry for this month but there may be changes next month (please see entry form). You will need to send your payment to
http://www.jenniferssavings.com/
via Paypal. Please make sure that you select the "Personal" button and select "Gift" so that Paypal will not charge any fees. If you do not select this, please include an additional $0.50 to cover the fee from paypal.
This giveaway will run from the 15th to the 30th of each month via Rafflecopter, with winners being selected on the 1st and enrollment for the next month started. I would like for you to post the giveaway on your FB page, Twitter, giveaway linkys, etc. during the giveaway. I have a Facebook group, Giveaways by Jennifer, that you can join to get updates on this and other giveaways that I am hosting also.
These giveaways are going to be a great way to increase your followers and connect with them! Thank you all and I look forward to teaming up with you! And by the way, you all will be able to enter these giveaways also!!!! YAY!!!!
Thanks, you can sign up below to join the Gift Cards Galore December Giveaway!!!
*Update: The blogger that refers the most bloggers for the December giveaway will get up to 3 links FREE for the January giveaway!!! Good Luck!!!
If you have trouble with the form below, you can go to the direct link at
https://docs.google.com/spreadsheet/viewform?formkey=dElXbkI0NFV5ZDRuMTFOY2ZBcjA1QkE6MQ